The Majestic Treehouse
THE #1 AIRBNB IN SOUTH CAROLINA!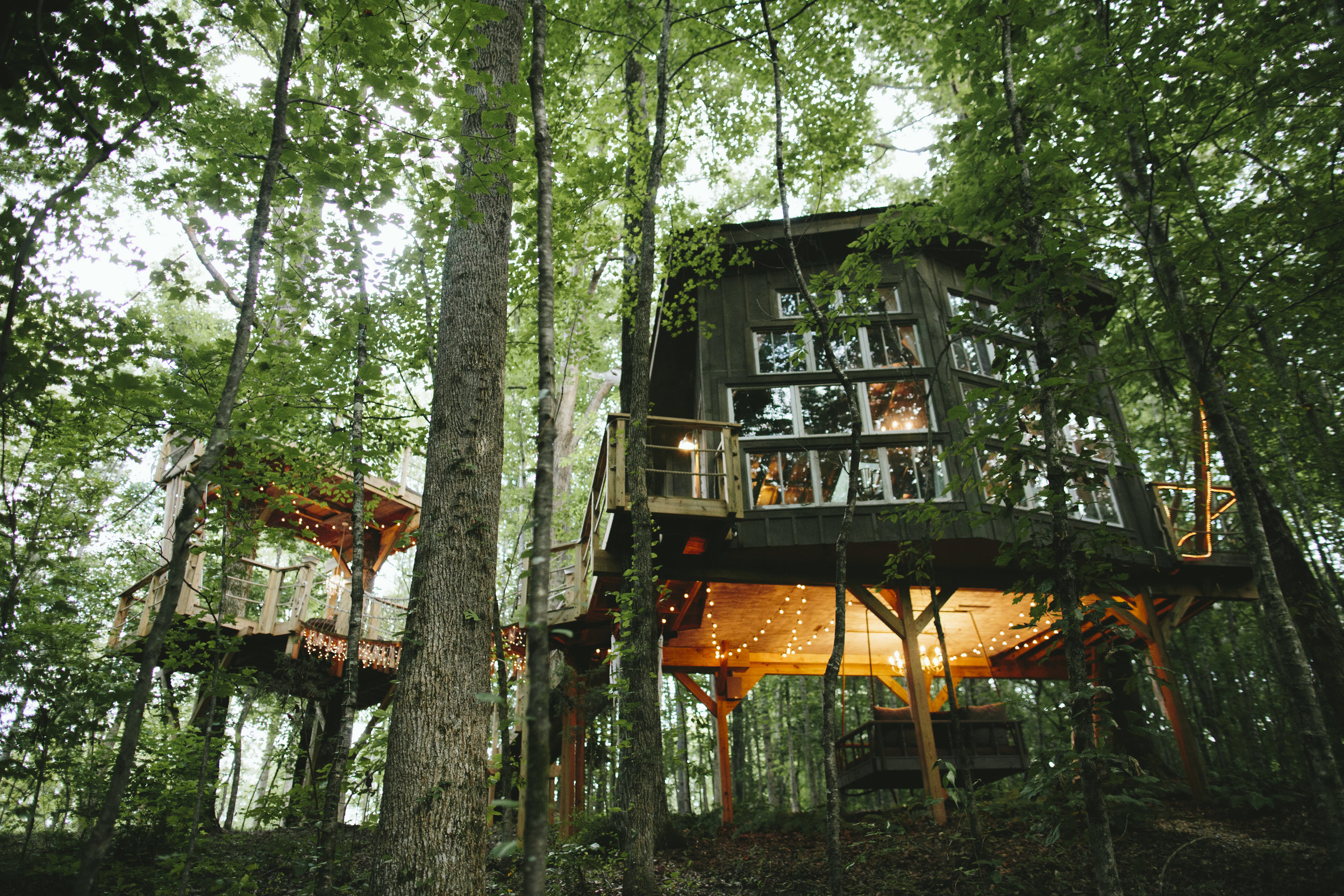 Walhalla, South Carolina
2 guests - 1 bedroom - 2 beds - 1 bath
REGAL, ROMANTIC, ONE-OF-A-KIND BLEND OF YOUTHFUL BLISS & GROWN-UP LUXURY.
Designed to be a timeless experience so you can feel like a kid again & lose track of time by enjoying high-quality one-on-one time with your best friend. A great space for digital detox & reconnecting.

Built by hand by father & son, Larry & Seth Bolt, for Seth & Tori Bolt's wedding & honeymoon, it's also a magical environment for new beginnings, dreaming about the years ahead, and celebrating all of life's milestones.
+ Read more about our 40-acre farm in Walhalla, South Carolina
LIVE LIKE KINGS & PLAY LIKE KIDS in this extraordinary, award-winning treehouse hidden in 40 acres of paradise! Cozy, whimsical & glamorous; 2 connecting treehouse decks transport you to utopia! Fireplace & AC, indoor plumbing, outdoor shower, record player, antiques!! Rest, reconnect & have an Unforgettable Experience!
We are 13x Superhosts! Named the Most Popular Airbnb in SC! Featured in Architectural Digest, Buzzfeed, Insider Travel, TLC, The Knot, Gal Meets Glam, Borrowed & Blue, & more!
THE SPACE
Why do people travel thousands of miles from around the world to stay in our treehouse? Come and see for yourself!! Transport your spirit, and feel a thrill that can only be discovered in the treetops! Experience the one-of-a-kind blend of youthful bliss and grown-up luxury for yourself. The faster you get here, the sooner you change your pace and unwind in our wooden paradise.
This luxury treehouse was designed by Seth Bolt (from the band NEEDTOBREATHE), who grew up on Bolt Farm. Larry Bolt (Seth's dad), proprietor, Eagle Scout and licensed custom home builder, has been building & remodeling homes for over 40 years in upstate SC.
Larry and Seth both love creating masterpieces (they built our home from timber they harvested from our land) and this romantic, luxury treehouse is one of their finest works of art.
Seth & Tori Bolt were married at Bolt Farm and honeymooned in the treehouse suite. Tori manages branding, press, and runs the social media pages. Stay connected with us at @boltfarmtreehouse on Instagram!
Regina Bolt (Seth's mom), the queen & caretaker, is one of the top producing real-estate agents in South Carolina because of how much she genuinely cares for others and helping their dreams become reality. She will make sure your stay is comfortable and unforgettable!
WE HAVE HEATING & AIR CONDITIONING! This is a year-round destination. We do have a bathroom in the treehouse and an amazing outdoor shower with hot water supply for you to use!
OUR FARM IN WALHALLA, SC
40 acres of relaxation, gardens, the tranquility of untouched forest, songbirds, beautiful white oaks, red oaks, hickory & dogwood trees, creeks &
2.5 miles of trails suitable for walking, hiking, jogging, & mountain biking (bring your own!).
Enjoy organic, locally roasted coffee on vintage fine china in your treehouse!
Heating and Air Conditioning!
Peace and quiet in this truly a one-of-a-kind setting suitable for getaway weekends for couples, creatives (song-writers, travel bloggers & photographers), and anyone looking to escape the office for an inspiring place to work!
You will have 100% privacy to come and go as you please. Signs will lead you down a private little path to park in front of the treehouse. Bring a cooler with food & drinks or enjoy our list of local fine dining favorites.
Evergreen Privacy Fence lines the property.
Eco-friendly practices.
Sample muscadines from our "Tiny Vineyard" (seasonal)
Need more beds? We have more rental properties (fully furnished home and studio apartment) and can provide lodging for groups of up to 8 people, so please send us your idea and we will make it happen!
INTERACTIONS WITH GUESTS
We are honored to have you as our special guest! Our 40 acres have given us so much and now it is our turn to give back. We love going the extra mile to make your stay unforgettable & would love to say hello. Respecting your privacy is our highest priority, so please send us a message if you'd like to say hello. We both work full time and live in the main house, but you'll see us around the farm from time to time if we aren't working or traveling. :)
OTHER THINGS TO NOTE
*Due to high demand (and to make booking fair to everyone), we release more treehouse dates at 12 noon EST on the 15th of every month. For more information go to our boltfarmtreehouse website. Dates are first come, first reserved, and sell out fast! Set your reminders for next month's Treehouse Release Day & follow us on Instagram (@boltfarmtreehouse) to stay updated on last minute openings!
ENHANCE YOUR EXPERIENCE
UPGRADE your stay with our VIP Treehouse Experience! Our goal as 13x Airbnb Superhosts is to raise the standard for how amazing vacation can be. The VIP Experience guarantees it.
NEW! Oven-fired pizza with DIY pizza kit for two
Premium bottle of wine delivered to your room
Bolt Farm Treehouse scented eco-friendly candle by Charleston Candle Co.
Access to private fire pit
The complete campfire starter kit
Ultimate s'mores supply kit for two
Bolt Farm Treehouse keepsake autographed by treehouse designers Seth & Tori Bolt
Two Bolt Farm Treehosue coffee mugs
$100 off your next treehouse stay
Click the VIP tab at the top of the page to purchase this upgrade.
Please let us know what you will be celebrating during your stay.
GUEST ACCESS
In order to ensure all of our treehouse guests have an unforgettable and safe stay at Bolt Farm, we require our guests to sign a simple liability waiver prior to check-in. Professional photoshoots are welcomed with advanced notice and approval. For media inquiries, please contact us at press@boltfarmtreehouse.com. Thank you for celebrating our treehouse and the joy it brings!
Hand painted antique king bed

Outdoor shower

Two-story window wall

Firepit
2.5 miles of walking trails

Suspension bridge

Indoor Fireplace

Grill
+ Show all 21 amenities
ESSENTIALS
Indoor fireplace
Essentials - Towels, bed sheets, soap, and toilet paper
Heating - Central heating or a heater in the listing
Air conditioning
Hot water
FACILITIES
DINING
Coffee maker
Dishes and silverware
GUEST ACCESS
Private entrance - Separate street or building entrance
Smart lock
BED & BATH
Bed linens
Extra pillows and blankets
Hangers
Shampoo
OUTDOOR
BBQ grill
Patio or balcony
Garden or backyard
SAFETY FEATURES
Fire extinguisher
Carbon monoxide detector
Smoke detector
First aid kit
NOT INCLUDED
Unavailable: TV
Unavailable: Washer
Unavailable: Kitchen
Unavailable: Hair dryer